FAQS
What is the best way to fix oily roots but dry ends?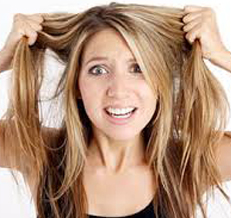 The issue of having dry ends but oily roots can sometimes be a result of shampooing too much. If you are washing your hair daily then it could be a good idea to space it out to every second day as shampooing every day strips out the natural oils of your scalp, causing your body to start over producing to compensate for this. Also, when using conditioner just apply it to the mid length to ends of your hair instead of the root area. You can use a leave in conditioner through the mid length to ends of your hair as well to help the dryness of the ends. If you want to use something to remove extra oil on the days you are not washing it, a dry shampoo can do wonders. It is a very easy product to use and gives your hair the volume and movement back that may be dulled by oils at the root area.
Can I fix my split ends without losing my length?
Many people go through the process of growing their hair longer and having to battle their split ends while it's growing. The best way to fix your split ends is to cut them off which can be tricky when you don't want to lose your length. You can ask you stylist to trim just your split ends off, this is a very small trim and a bit of texturing the ends to remove as much of the damage as possible while keeping your hair as long as possible. If you have layers in your hair you can still get those trimmed as usual which helps your hair look and feel nicer as well. There are many products around that claim to fix split ends but most of them can leave you hair greasy on the ends or make it dry. The most effective product we recommend you use would be a leave in cream brought from a salon, such as the Hydration cream from the Angel range that we have at NV. This cream will help to smooth your hair and is light weight so your hair will stay nice and soft without being weighed down or greasy. The creams affects will usually last between 6-8 hours if your hair has a lot of split ends, so if you need to do a touch up, keep the tub in your bag.
How can I help my hair gain better condition when it's dry and breaking?
If you have hair that easily breaks it could be because you hair is fine or possibly overly bleached/coloured. There are a few ways to help keep your hair in the best condition you can. The first option is to avoid bleaching it, try only getting highlights every 8 weeks or so and talk to your hairdresser about using lower level bleach so it will be less damaging for your hair. The second option is to try your best to style your hair without using heated tools like irons or a curling tong, if you do use these make sure you are using a very good heat protector for your hair before you apply any heat. Another option is the use of treatments in your hair, its best to use these once a week and you can easily put these in your hair at home, we recommend leaving the treatment in a little longer than it says on the tub. A treatment containing both protein and moisture is the best option for brittle hair but failing that a good moisturising treatment will help also.
Is there a way I can cover up my few greys?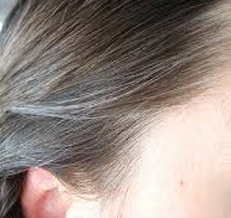 There is a point in life for everyone that the dreaded grey hair will start to make an appearance. Luckily there is a way to cover them up and still avoid having regrowth showing up and it's called semi-permanent colour! You can have your hair coloured all over with a semi-permanent colour that matches your natural colour and this will mask the few greys in your hair. Semi-permanent will fade out naturally after 6-8 weeks so there will not be a regrowth that starts to show and you can just do another one when you feel it's time.
What can I do to help my colour from fading?
You can start helping your hair colour from the day before you have it coloured. If you wash your hair with a cleansing shampoo the day before your colour it will give it a good, deep clean, removing any dirt or oil build up and giving your colour the best clean slate to work with. Another good way to help your colour settle in the best is to wait about 72 hours before you shampoo after it has been coloured. Hair colour is more likely to have leaching occur within the first few days after application so this will help with preventing colour fade and help you have a more vibrant colour for longer.
What can I do with my hair to make me look younger?
Many people ask how their hair can help them look younger and the truth is there can be a couple of ways to do this. It is very common for ladies to cut their shorter as they get older and this can prematurely age them quite a lot. If you want to take you hair shorter try a collarbone length rather than going too short, this length is versatile and with some nice soft layering will compliment your face and still give you options on how you choose to wear it. Try adding a fringe as well, either a full fringe or a longer sweeping side fringe work well to give you a bit more style to your cut and can help hide a few wrinkles. When thinking of colour options, try adding a bit of warmth to your base colour to liven up your skin. Highlights of golden or red tones help bring your hair to life and will work with most skin tones as well. The best thing you can do to help yourself from looking or feeling older than you should is to style it in different ways. 'Same old, same old' hair can weigh you down, try mixing up your styling techniques and that could go a long way to making you look and feel younger! Ask your stylist how you can change it up with your styling to help get the most out of your haircut.
What is a fast, easy way to get volume?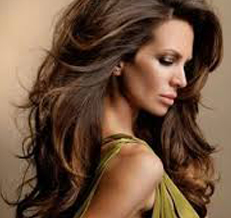 If you are having trouble keeping volume in your hair it could be your haircut. Styling products can help you build body but if the style is not right to start with even product won't help you keep the volume in your hair for very long. Body and volume are all about the layers, ask your stylist to create some medium to longer layers throughout your hair that will give your hair movement and create volume. Once you have the right style you can use products such as, mousse or root lift to really give your hair some oomph! When applying mouse, be sure to wait till your hair is damp rather than wet before putting it through, you can then either blow dry to give you the maximum volume or use a styler such as a curling tong to give your hair the desired look.
What is the best way to fight frizzy hair?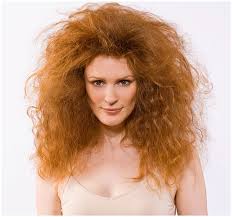 Most people with frizzy hair have been told at some point that a leave in conditioner is the best way to fight their frizz and hydrate their hair. This can be the case for some people but for most with naturally frizzy hair it can actually dry the hair out. There are a few ways however that you can battle this problem. Try using a frizz fighting range of salon brand shampoo and conditioner and follow it up with a frizz fighting serum, cream or spray such as The Grapefruit range by Angel we have at NV. Regular treatments are also a good way to help put some moisture back into your hair and these should be done weekly. There is also the option of a heavier leave in cream that can help you smooth out the frizz and you can add more to your hair as needed. When it comes to drying your hair try to use a boar bristle round brush to smooth your hair when blow drying but only blow dry when you really need to as the heat will add to the dryness of those ends. Also try not to use irons to tame the frizz too much unless you are dealing with humidity.
What is the best way to grow out a shorter cut?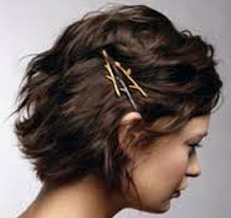 There can be many opinions when it comes to growing out a short haircut. We recommend giving your hair a break to let it have a chance to gain some length. Wait for about 4 months before going in to get your hair cut again after you decide to grow it out. When you get that first haircut you can talk to your stylist about either levelling out the back to give it a bob look or you can put some texture into the back to give the front of your hair the illusion that it is longer than it really is. After the first cut give it another 4 months or so to let to gain some more length then get it cut again but this time giving the hair some longer layers through the back and some medium length ones through the front to give you some nice shape around the face. If your hair starts to annoy you while you are growing it out try changing the way you style it, you could push it all to one side, tuck it behind your ear or try brushing it all forward to give it a different look. Another little trick during the growing process is to pin it up, pinning up your hair will always make people think it is longer than it is.