Product Gallery
Lavender Full Energetic Range, by Angel
Unique body maker botanical formula to thoroughly cleanse your hair while restoring its natural balance, leaves hair vibrant and full of body. Containing moisturizer extracted from rosemary can revitalize and rejuvenate your scalp, leaving your hair tangle free, static resistant and silky smooth with volume. Suitable for fine limp or normal hair.
Organic Ingredients: Lavender extract, Grapefruit extract, Rosemary Leaf oil.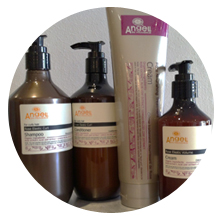 Rose Elastic Curl Range, by Angel
Rose extract enriched with moisturizers and repairing nutrients can effectively repair the damaged hair after chemical treatment. Restores elasticity to enhance curl definition, keeps hair supple and bouncy with natural glow after use. Subtle fresh rose fragrance will surround you all day long. Organic Ingredients: Rose extract, Aloe Leaf extract, Gingko Biloba Leaf extract.
Orange Flower Shining Colour Range, by Angel
Adding natural ingredients with special protein factor, this mild shampoo is professionally designed for coloured hair to prevent fading, keeping colour treated hair at its peak. Protects hair against environmental damages, from sun to water leaving hair soft and vibrant with a lustrous shine. Organic Ingredients: Bitter Orange Flower extract, Pelargonium Graveolens extract, Rose extract.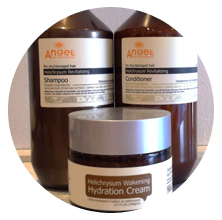 Helichrysum Revitalizing Range, by Angel
Professionally formulated for dry, damaged or frizzy hair, this range contains helichrysum essence and Vitamin A, E which can affectively prevent UVA and UVB damage while repairing the damaged areas of the hair shaft. Helichrysum moisturising essence penetrates into the hair shaft to create a barrier for repairing dry, coloured or chemically treated hair, reviving the hair back to its natural shine and elasticity. Organic Ingredients: Helichrysum Stoechas extract, Gingko Biloba Leaf extract.
Rosemary Hair Activating Range, by Angel
Containing Rosemary essence to effectively help improve the microcirculation of the scalp, enhancing the penetrating ability of hair follicles to supplement sufficient nutrients and improve activity of hair follicles. Reconstructs hair cells and supplies essential protein to hair, deeply nourishing roots to prevent hair loss while repairing damaged hair, leaving hair strong, vibrant and healthy. Organic Ingredients: Rosemary Leaf oil, Ginger Root extract, Sage oil.
Lavender Violet Toning Range, by Angel
Lavender Violet tone correcting range can remove unwanted yellow and brassy tones from blonde hair. Including, Lavender extract, Grapefruit extract and Rosemary Leaf oil. After Shampooing it leaves the hair with a natural, pearl gloss, and healthy look. Organic Ingredients: Lavandula Angustifolia (lavender) Flower extract, Citrus Paradisi (grapefruit) Fruit extract, Rosmarinus Officinalis (rosemary) Leaf oil.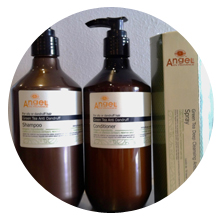 Green Tea Anti Dandruff Range, by Angel
Containing natural pure green tea extract effectively cleanses and purifies hair and scalp by removing excess oil while preventing bacterial infection and also can deodorise the hair. Specially added mint essence to relax the scalp and relieve your pressure. Leaves hair clean, refreshed and vibrant, without dandruff. Organic Ingredients: Camellia Sinensis extract, Mentha Arvensis oil, Rosemary Leaf oil.
Grapefruit Straighten Range, by Angel
Containing Grapefruit extract, hydrolysed wheat protein and gingko essence, this range is enriched with precious natural vitamin P, plentiful vitamin C and soluble fibre can quickly supplement nutrients to hair and boost its absorption, restoring hair back to its natural pH balance. Leaves the hair smooth and straight with natural shine. Organic Ingredients: Grapefruit extract, Hydrolyzed Wheat Protein, Ginko Biloba Leaf extract.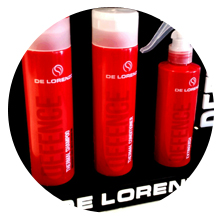 Defence Thermal Protection Range, by De Lorenzo
Safeguard your hair from the damage caused by intense heat with the new Defence Thermal Protection System. Enjoy the benefits of this sulphate and paraben free formula which can be safely used to shampoo coloured hair and reduce fade. Defence is infused with Argan oil, leaving hair luxuriously silky with an opulent shine. Reduces hair breakage by up to 88%, protects against split ends.
Catwalk Range, by Tigi
*Fashionista Violet Shampoo & Conditioner
This shampoo and conditioner are specially designed to be colour safe and to help protect hair from heat damage. These products are sulphate free and enhance blonde shades, reducing brassy tone effects. With an illuminating complex of violet, pearl extract and rice milk. It boosts cool tones and delivers captivating shine to blonde, grey or white hair.

*Root Boost Spray
Magnificent volume starts at the roots. This volume spray foam, with sweet almond oil and lavender, is formulated with hair-holding polymers to help deliver the lift and support essential for a long lasting, dramatic style. Designed for lift and texture.

*Curls Rock Amplifier
This specially designed formula with hair-holding and style-setting polymers provides hold and control for defined curls and streamlined waves by enhancing your natural texture. With essential oils combined with humidity protectors, it nurtures curls for a touchable, radiant finish. Get tempted by this enticing scent of ripe fruits with a hint of sea breeze, and make your curls stand out.

*Thickening Gel Crème
This formula will promote impeccable fullness with amazing manageability and shine. A blend of Jasmine, Violet and UV filters help protect hair while making it feel thicker and healthier.
Healthy Sexy Hair Range, by Sexy Hair
*Soy Tri-Wheat Leave in Conditioner
Soy Tri-Wheat Leave in conditioner combines the great benefits of Soy and Cocoa for beautiful, vivacious hair.

*Soy Paste
The powerful combination of Soy and Cocoa works synergistically to perfectly care for your hair. This is a moisturising, non-greasy, soy-based pomade. Apply on dry hair for detailing, texture and separation.

*Root Pump Mousse
A humidity-resistant, volumising spray mousse that helps you create big volume by pumping up the root with extra hold. It dispenses out as a spray and turns into a mousse to give tresses tons of volume. Apply to damp hair at the root to achieve phenomenal lift or dry hair to activate textural volume. It also protects hair from humidity to keep style from going flat.
*Soy want it all 22 in 1
A light weight leave-in conditioner containing a Soy, Cocoa and Argan Oil blend that penetrates the hair shaft helping to rebuild and protect hair from roots to ends. 22 key benefits include: Thermal protection, humidity resistance, moisture, nourishment, body building, repair, shine, smoothness, colour protection, detangling, elasticity, environmental protection, anti-static, anti-frizz, anti-aging, soothing, strength, style control, damage control, light weight, priming and damage prevention.
Muk Styling Range
*Filthy Muk, Firm Hold Paste & Hard Muk, Styling Mud
Apply filthy muk to completely dry hair to achieve maximum texture. This also helps maintain an ultra-low sheen finish. You style won't drop even in hot, humid conditions. Filthy muk has a firm hold with a gritty and flexible finish. It also has a subtle green apple fragrance. Hard muk has brutal hold with a matte finish and flexible hold. It also has a citrus fragrance.
HairCur Hair Express, by Brelil
Hair Express is a line of extraordinary products that increase the speed of hair growth. Research laboratories have developed and patented a unique technology that carries out 2 fundamental actions to invigorate and strengthen the hair structure and increase the speed of hair growth. There are 3 products available at NV in this range. The first is the Hair Express Shampoo; it gently cleanses the hair, leaving it soft and visibly shinier. The second is the Hair Express Mask; it nourishes the hair in depth, leaving it soft and silky smooth. The third is the Hair Express Spray; its special formulation rich in conditioning agents leaves the hair feeling soft and silky smooth. All of these products are suits to all hair types.
Bedhead for Men Range, by Tigi
*Clean Up Shampoo & Conditioner
Best suited for any guys who want healthy looking hair and scalp. Conditions and strengthens hair while stimulating the scalp. With Ginseng root extract, proteins and peppermint scent, invigorates scalp and helps protect the hair from future damage and breakage.

*Charge Up Shampoo & Conditioner
Best suited for any guys that want thicker looking hair, maximises volume and adds body. This body building mega-mix gives bulked up thickness with daily moisture.

*Wise Up Shampoo & Conditioner
Best suited for any guys who need to wise up to scalp care. Helps to revive scalps, a cleansing solution with charcoal and caffeine refreshes and revives.

*Power Play, Firm Finish Gel
Best suited for any guys who like a classic gel with a firm finish; easily spreadable, solid hold formula. This gel with antioxidants and conditioning agents protects hair while providing control and shine without flaking.

*Matte Separation, Wax
This is a workable wax with a matte finish. Perfect for defined looks that need more hold and texture.

*Pure Texture, Molding Paste
Best suited for any guys who want controlled separation; a versatile cream-to-paste fusion. This molding paste with Caranauba wax, Wheat Amino acids & powerful styling agents, creates ultimate texture that does not flake.